Let Go of the Lego Battle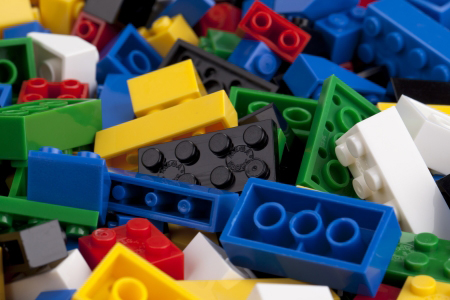 Legos…are they taking over your home???
They are one of the most painful toys to step on in the dark!
Some floors look as if a volcano of Legos has just erupted! This problem is common, create an eyesore and is a safety risks. With toddlers and babies, Legos can be a dangerous choking hazard. So what are you supposed to do with all of those tiny pieces that your children obsess over? Its time to let go of your ongoing battle and gain control of your Legos!
To start, it's a good idea to create a designated area to store Lego pieces and kits. It could be as simple as a rug that you roll up when your kids are finished playing or a table with storage containers nearby. Make clean up easy by keeping Legos in one location.
Organizing and storage containers vary depending on the size of your child's collection as well and how your child prefers to organize them. Large plastic clear bins are one option but tend to become "dumping grounds" making it difficult to find what you are looking for. Another option is to organize by color.
The following items are additional storage solutions to consider:
Clear storage containers (like ones used for bead storage)
Binders
Clear pencil storage containers
Toolboxes and tackle boxes
Ziploc bags  (put instruction booklet inside bag with matching kit)
Some of the cutest Lego storage ideas are custom and creative solutions put together with items in your home.  Look in your garage, empty out your old jewelry cases, gather some baskets that are not being used…everything has the potential to be the PERFECT resolution to your Lego battle.
This month's tip is by
Shandra Hennebeck – Organizing Associate for Life Simplified